ADMIRAL RAPHAEL SEMMES CAMP #11
SONS OF CONFEDERATE VETERANS
MOBILE, ALABAMA
Admiral Raphael Semmes name lived on as two ships during the twentieth century seeing service in WWII and beyond.



USS SEMMES
DD-189 / CG-20 / AG-24
[1920-1946]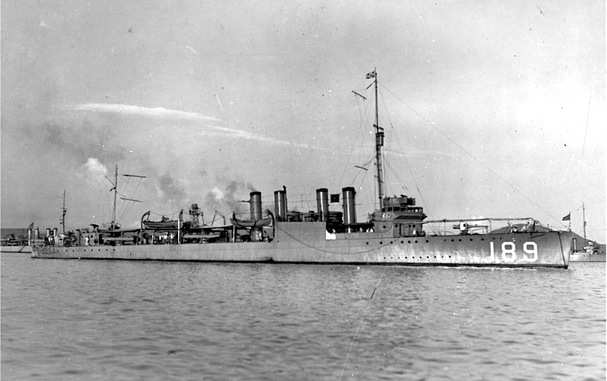 USS Semmes (Destroyer # 189) at anchor, probably in Guantanamo Bay, Cuba in 1919-1920. Collection of Gustave Maurer. U.S. Naval History and Heritage Command Photograph. Photo #: NH 2214.
Summary
Clemson Class
Basic repeat Wickes Class, with 35% more fuel capacity to improve endurance problems, designed radius was 4900 nautical miles at 15 Knots.

Displacement 1,215 Tons, Dimensions, 314' 5" (oa) x 31' 8" x 9' 10" (Max)
Armament 4 x 4"/50, 1 x 3"/23AA, 12 x 21" tt.
Machinery, 26,500 SHP; Geared Turbines, 2 screws
Speed, 35 Knots
Crew 114
Operational and Building Data

Laid down by Newport News Shipbuilding on July 10 1918.
Launched December 21 1918 and commissioned as DD-189 February 21 1920.
Decommissioned July 17 1922.
Recommissioned April 20 1934.
Reclassified Auxiliary AG-24 July 1 1935. Semmes then became a test bed for sonar equipment and testing of anti submarine warfare tactics into 1940.
Decommissioned at Philadelphia on June 2 1946.
Loaned to the Coast Guard as CG-20 April 25 1932 and returned April 20 1934.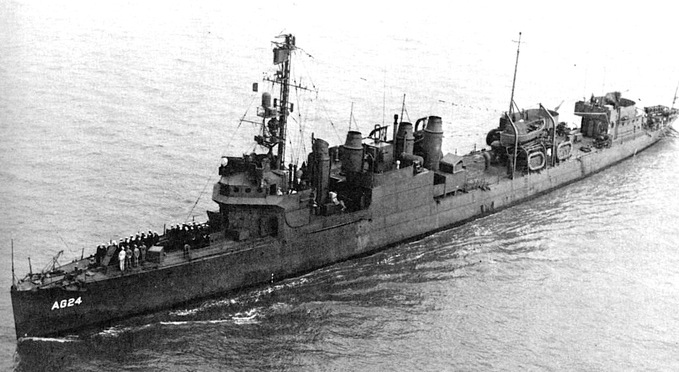 Based on the East Coast from 1935 until her retirement after WW2, the Semmes was a sonar test ship during the late 30's and added escorting, training and anti-submarine patrols to her mission after the start of WW2, based out of Key West. She is shown here on April 12, 1945, off the Charleston Navy Yard, in her final configuration. Except for the single aft 3"/50 gun, she has had most of her original armament removed. In common with her anti-submarine role, she carries a Hedgehog forward, four depth charge throwers and her stern depth charge racks at the stern. She only carries a surface search radar, the new SU model.
History [From Wikipedia]

Following shakedown, Semmes participated in exercises along the northeast coast until January 1921 when she sailed south for winter fleet maneuvers in the Caribbean. From there, she transited the Panama Canal to cruise off the west coast of South America and returned to the Caribbean in late February to conduct further exercises out of Guantanamo Bay. In late April, she resumed operations out of Norfolk, Virginia.

The destroyer was ordered inactivated in 1922; and, on 12 April, entered the Philadelphia Navy Yard where she was decommissioned on 17 July 1922.

Activated ten years later, she was transferred to the United States Coast Guard to serve in the Rum Patrol. She was commissioned in that service on 25 April 1932. As a Coast Guard destroyer, she was reconditioned at Boston, Massachusetts and based at New London, Connecticut whence she operated from 25 September until detached for two months duty with the Navy on 7 September 1933. On 10 November, she returned to New London and resumed operations for the Treasury Department. On 20 April 1934, the destroyer was returned to the Navy and was recommissioned as an experimental ship in accordance with the London Treaty limiting naval armament.

Although not officially redesignated as an auxiliary ship, AG-24, until 1 July 1935, Semmes was assigned to Experimental Division 1: and, with assigned submarines, tested and evaluated underwater sound equipment into the 1940s. In May, 1939 the Semmes took part in the recovery efforts for the USS Squalus. After the entry of the United States into World War II, Semmes added escort missions, training services for the Key West Sound School, and antisubmarine patrol work to her duties.

At Key West from 16 March to 16 April 1942, she performed escort and patrol work off the mid-Atlantic seaboard into May; and, on the morning of the 6th, while patrolling off Cape Lookout, collided with a British armed trawler, Senateur Duhamel. The latter sank; and, after assisting the survivors, Semmes put into Morehead City, N.C. for temporary repairs.

Permanent repairs were completed at Norfolk on 3 June and the former destroyer resumed her test and evaluation, patrol, and escort work which she continued through the end of the war in Europe. After the capitulation of Germany, Semmes resumed her primary mission of testing experimental equipment and, for the remainder of her career, conducted tests for the Underwater Sound Laboratory, New London, as a unit of the antisubmarine surface group of the Operational Development Force. Other duties during that period included the provision of training services to the Submarine School and to the Fleet Sonar School.


Fate
Sold November 25 1946 to Northern Metals, Philadelphia and broken up for scrap.



USS Semmes
DDG-18 / D-218 (Kimon - Greece)
[1962-2004]
Summary
CLASS - CHARLES F. ADAMS As Built.
Displacement 4526 Tons (Full), Dimensions, 437' (oa) x 47' x 15' (Max)
Armament 2 x 5"/54 RF (2x1), Tartar SAM (1x1 Mk 13) ASROC ASW (1x8), 6 x 12.75" Mk 32 ASW TT (2x3).
Machinery, 70,000 SHP; Geared Turbines, 2 screws
Speed, 33 Knots, Range 4500 NM@ 20 Knots
Crew 333-350.
Ship's motto: "Dare to Excel"
Operational and Building Data
Laid down by Avondale Marine, Avondale LA. on August 15 1960.
Launched May 20 1961 and commissioned December 10 1962.
Decommissioned September 12 1991.
Stricken January 11 1995.
To Greece September 13 1991, renamed Kimon.
June 16, 1988: USS Semmes DDG-18, USS Milwaukee AOR-2 and USS Forrestal CV-59 conducting an underway replenishment.
History [from
USS Semmes DDG-18 Association
]
Following shakedown, Semmes joined Destroyer Division (DesDiv) 62, Destroyer Squadron (DesRon) 6, at Charleston, S.C., in July 1963; and, into the summer of 1964, participated in various fleet exercises in the Atlantic and Caribbean. Toward the end of that summer, she sailed east for a six-week NATO exercise "Masterstroke/Teamwork," in the North Atlantic Norwegian Sea area, and, on 22 September, she crossed the Arctic Circle. Two months later, on 28 November she deployed to the Mediterranean for her first tour of four months, with the 6th Fleet. She returned to Charleston in time to participate in the 2d Fleet's exercises during the spring of 1965. She then took part in support operations off the Dominican Republic.

From February to July 1966, the guided missile destroyer conducted her second tour with the 6th Fleet and, on her return to the United States, changed her home port from Charleston to Norfolk, effective 1 August in anticipation of her first major overhaul at the Norfolk Naval Shipyard. In April 1967, Semmes resumed operations with refresher training in the Caribbean. In July, she rejoined DesRon 6 at Charleston; and, in August, she deployed for her third tour with the 6th Fleet. She participated in fleet and NATO exercises into January 1968; then returned to Charleston, arriving on the 31st for a month's rest before resuming operations in the Caribbean and off the east coast.

On 10 June, Semmes again sailed east. During that month and into July, she visited Germany and Denmark then turned south for another 6th Fleet deployment. On 15 November, she was relieved by John King (DDG-3) at Rota, Spain; and, 11 days later, she returned to Charleston where she remained in port for the rest of the year.

In January 1969, she cleared Charleston to participate in ASW and "Springboard" exercises in the Puerto Rican operating area, then returned to her homeport. In April, she returned to the Caribbean for 2d Fleet exercises.

Through the summer, Semmes continued to conduct exercises in the Caribbean and off the southeastern seaboard. In late September, she again crossed the Atlantic for a seven-month deployment with the 6th Fleet; and, on 10 February 1970, while moored at Naples, she was struck by the Greek freighter, SS Mautrie. The damage sustained to her bow was quickly repaired; and, before the end of the month, she had resumed operations. By mid-March, she had arrived at Barcelona for turnover with Conyngham (DDG-17). On the 18th, she departed the Mediterranean; and, on the 28th, she returned to Charleston.

During 1971, her schedule remained basically the same, but her annual tour with the 6th Fleet, 16 July to 11 October, was followed by visits to the Netherlands and to Denmark for binational and NATO operations. On 20 December, Semmes returned to South Carolina, and, in January 1972, she entered the Charleston Naval Shipyard for conversion of her engineering plant to the Navy Distillate Fuel Oil System. With the spring, she resumed operations off the east coast and in the Caribbean. In September, she participated in NATO exercise "Strong Express," which again took her above the Arctic Circle and which was followed by visits to Norway and Denmark. In October, she returned to Charleston. In November, she conducted exercises in the Caribbean; and, in December, she prepared for another deployment in the Mediterranean with NATO's Standing Naval Force, Atlantic.

After sea trials in the Charleston operating area, Semmes got underway from that port on 4 January 1973. She arrived in Portsmouth, England, on the 15th, joining the NATO naval force there. For the next seven months, the guided missile destroyer cruised the Atlantic visiting ports on both sides of that ocean and participating in three exercises: NATO Exercise "Sunny Seas," in January and February, Canadian Exercise MARCOT 2/73, in April and May, and Norwegian Exercise "Midnight Sun" in June. On 1 July, Semmes changed operational control back to the 2d Fleet and nine days later, returned to Charleston.

Following a month of post-deployment standdown, from 10 July until 10 August, she resumed operations along the eastern seaboard and in the Caribbean. In November and December, she took part in Exercises "Fun in the Sun" and LANTREADEX 2-74. Semmes reentered Charleston on 19 December to prepare for overhaul.

On June 17,2004, at Souda Bay, Crete, the Hellenic (Greek) Navy held the decommissioning ceremony of HS KIMON (D-218) (former USS SEMMES (DDG-18) / USN), its last ex-USN CHARLES F. ADAMS-class DDG in service. From the five DDGs transferred to Greece 1990/1991 from the USN, four were commissioned in the Hellenic Navy, while the fifth was used solely for spares. In Greek service, HS KIMON, ex-USS SEMMES (DDG-18), served from September 12,1991 to June 17, 2004 and steamed for 16,000 hours, covering over 174,000 nautical miles. HS KIMON was the world's last CHARLES F. ADAMS-class DDG in service. With her decommissioning the HN marked the end of the "steam" propulsion era. All HN vessels now in service, are gas turbine or diesel powered. The HS KIMON (D-218) was decommissioned ahead of schedule, as the boilers were up for a major scheduled inspection/maintenance. Due to the costs involved it was deemed better economically to proceed with her decomissioning.
Fate
Decommissioned by Greece June 17 2004, in reserve at Souda Bay, Crete.