ADMIRAL RAPHAEL SEMMES CAMP #11
SONS OF CONFEDERATE VETERANS
MOBILE, ALABAMA

Locally Constructed Ships

CSS GAines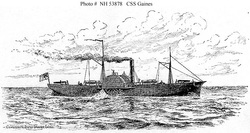 CSS Gaines (1862-1864) Late 19th Century reproduction of a pen and ink drawing of 1864 vintage. U.S. Naval Historical Center Photograph.
CSS Gaines, an 863-ton side-wheel gunboat, was built at Mobile, Alabama, in 1861-62. She served her entire career as part of the defenses of Mobile Bay. On 5 August 1864, Gaines participated in the Battle of Mobile Bay, receiving crippling damage from the gunfire of Union warships. After the battle, she was beached near Fort Morgan and destroyed by her own crew.

---

CSS Morgan
CSS Morgan was a partially armored gunboat built at Mobile, Ala., in 1861-62. She operated in the waters around Mobile from the time of her completion early in 1862 to the close of hostilities. One reference of October 1862 gave her name as Admiral.
Morgan, Comdr. G. W. Harrison, CSN, took an active part in the battle of Mobile Bay on 5 August 1864. Situated well to the right of the Confederate line of battle as the enemy proceeded up the channel she was able to deliver a telling broadside raking fire against USS Hartford and others. Toward the end of the engagement she was pursued by USS Metacomet but succeeded in driving her off. Morgan, attempting to avoid capture, then turned toward shallow water, grounded briefly, but continued on her perilous route and reached the guns at Fort Morgan. She dispatched a boat which effected thedestruction of a Union gunboat Philippi below the fort. Captain Harrison then saved Morgan by boldly running the gauntlet up to Mobile. Although hotly pursued and shelled by cruisers for a large part of the 25-mile starlight voyage, she reached the outer obstructions near Mobile at daybreak and that afternoon was permitted to pass through.
Morgan continued to serve in the Mobile area. In April 1865 she participated in the battle near Blakely, Ga., sustaining considerable damage. On 4 May 1865 Commodore E. Farrand, commanding Confederate Naval Forces in the State of Alabama, ordered the surrender of Morgan to the United States Navy. She was sold the following December.


CSS Tuscaloosa
An ironclad floating battery, was launched at Selma, Ala., 7 February 1863. She was designed as a ram to mount four guns and to have the protection of 4-inch iron plating supplied by Schofield & Markham and Shelby Iron Co. Engined before launching, Tuscaloosa proceeded under her own power to Mobile for completion. Under Commander C. H. McBlair, CSN, she served in the Mobile area until Mobile's capitulation on 12 April 1865 when the Confederates sank her in the Spanish River 12 miles north of the city. http://www.history.navy.mil/danfs/cfa9/tuscaloosa.htm

HL Hunley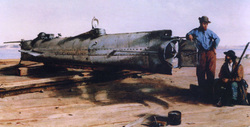 Submarine H.L. Hunley (1863-1864) Sepia wash drawing by R.G. Skerrett, 1902, after a painting then held by the Confederate Memorial Literary Society Museum, Richmond, Virginia. Courtesy of the Navy Art Collection, Washington, DC. U.S. Naval Historical Center Photograph.
H.L. Hunley, a small, hand-powered submarine, was privately built at Mobile, Alabama, in 1863, based on plans furnished by Horace Lawson Hunley, James R. McClintock and Baxter Watson. Her construction was sponsored by Mr. Hunley and superintended by Confederate officers W.A. Alexander and G.E. Dixon. Following trials in Mobile Bay, she was transported to Charleston, South Carolina, in August 1863 to serve in the defense of that port. On 29 August, while moored to a steamer, the submarine was accidently pulled over on its side and sank, drowning five members of her crew. After salvage, she was given a new crew and began a series of tests. However, during diving trials on 15 October 1863, she failed to surface. Horace Lawson Hunley, who was directing her operation, and the rest of her men were drowned.
H.L. Hunley was again raised and repaired. With a third crew, and under orders to only operate on the surface, she began a series of attempts to attack United States Navy ships on blockade duty off Charleston. On 17 February 1864, these efforts were successful. H.L. Hunley approached the steam sloop of war USS Housatonic and detonated a spar torpedo against her side. The Federal ship sank rapidly, becoming the first warship to be lost to a submarine's attack. However, H.L. Hunley did not return from this mission, and was presumed lost with all hands. Her fate remained a mystery for over 131 years, until May 1995, when a search led by author Clive Cussler located her wreck. On 8 August 2000, following extensive preliminary work, the H.L. Hunley was raised and taken to a conservation facility at the former Charleston Naval Base. At present, she is the subject of a careful preservation effort that ultimately should place her in suitable condition for general public exhibition.Additional information may be found on this website here.
Further information may be found at the Friends of the Hunley.
---