ADMIRAL RAPHAEL SEMMES CAMP #11
SONS OF CONFEDERATE VETERANS
MOBILE, ALABAMA


A Short history of the CSS alabama provided by
Oliver Semmes, a direct descendent of Admiral Semmes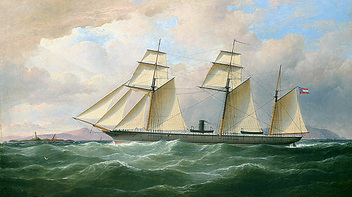 Confederate Raider Alabama Oil on Canvas, 12 x 20½ Inches, 19 x 27½ Inches Framed Samuel Walters, Liverpool School (1811-1882) Dated 1863 Signed: LL Walters Vallejo Gallery
The Confederate States Steamer ALABAMA was first and foremost a warship, a cruiser. Her mission was logistic, the weakening of Union ability to carry
on war by crippling her maritime commerce. An industrially weaker South had few means of carrying on war so handicapped for capability to manufacture weapons.
This was not "plundering". Plundering was more a modus operandus of the other side...afloat and ashore.
The Union leaders were more irritated with the Confederate States Steamer ALABAMA than with the Confederate Army, at least in their rage. You see the ALABAMA hit them in the pocket book...to some, more egregious than loss of life.
The C.S.S ALABAMA in the course of 22 months boarded 447 ships of all nations, captured 69 Union vessels, took 2,000 prisoners, sank the Union warship HATTERAS, and engaged the U.S.S. KEARSARGE.
During that time not one prisoner was injured to accident or disease, a large feat even today. She observed international law and the finest "laws of the sea". Following her battle with HATTERAS the CSS ALABAMA put all her boats in the water and rescued all except two who were killed in the action...this at night with a Union squadron less than twenty miles away. In capturing the Ariel she had to contend with 500 passengers and 140 U.S. Marines. To avoid hardship on the passengers she released the ship.
Secretary of (Union) Navy Welles, that great humanitarian, chastised Captain Winslow for his encouraging the yacht Deerhound to rescue CSS ALABAMA survivors, stating that it would be better that they drown.
The C.S.S. ALABAMA left a legacy that has been a touchstone for many a naval officer. Her strategy, tactics, seamanship, and most of all, provide a superb definition of naval excellence and honor.

Oliver Semmes
---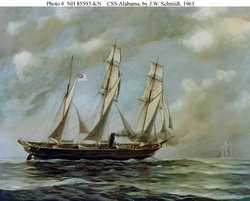 Painting by Rear Admiral J.W. Schmidt, USN (Retired), 1961, depicting the Alabama in chase of a merchant ship. Courtesy of the Navy Art Collection, Washington, DC. Donation of RAdm. J.W. Schmidt.
CSS Alabama, a 1050-ton screw steam sloop of war, was built at Birkenhead, England, for the Confederate Navy. After leaving England in the guise of a merchant ship, she rendezvoused at sea with supply ships, was outfitted as a combatant and placed in commission on 24 August 1862. Commanded by Captain Raphael Semmes, Alabama cruised in the North Atlantic and West Indies during the rest of 1862, capturing over two-dozen Union merchant ships, of which all but a few were burned. Among those released was the mail steamer Ariel, taken off Cuba on 7 December with hundreds of passengers on board.

Alabama began the new year by sinking USS Hatteras near Galveston, Texas, on 11 January 1863. She then moved into the South Atlantic, stopped at Cape Town in August, and went on to the East Indies, seizing nearly 40 more merchantmen during the year, destroying the majority and doing immense damage to the seaborne trade of the United States.

The Confederate cruiser called at Singapore in December 1863, but soon was back at sea to continue her commerce raiding. However, Alabama was increasingly in need of an overhaul and only captured a few ships in 1864. On 11 June of that year, Captain Semmes brought her to Cherbourg, France, for repairs. The Union steam sloop Kearsarge soon arrived off the port, and, on 19 June the Alabama steamed out to do battle. In an hour of intense combat, she was reduced to a sinking wreck by the Kearsarge's guns. As Alabama disappeared beneath the surface, her surviving crewmen were rescued by the victorious Federal warship and by the English yacht Deerhound. Her wreck was located by the French Navy in the 1980s.

---



Officers of the CSS Alabama
Brief biographies, stories, and photos of the officers who served on the most successful raider may be found
here
.


england, The alabama and other confederate vessels