ADMIRAL RAPHAEL SEMMES CAMP #11
SONS OF CONFEDERATE VETERANS
MOBILE, ALABAMA

Lt. Edward J. McDermott - A True Southern Hero
Lt. McDermott, for whom the fort is named, was memorialized on April 18, 2015 at the City Cemetery of Springfield, AL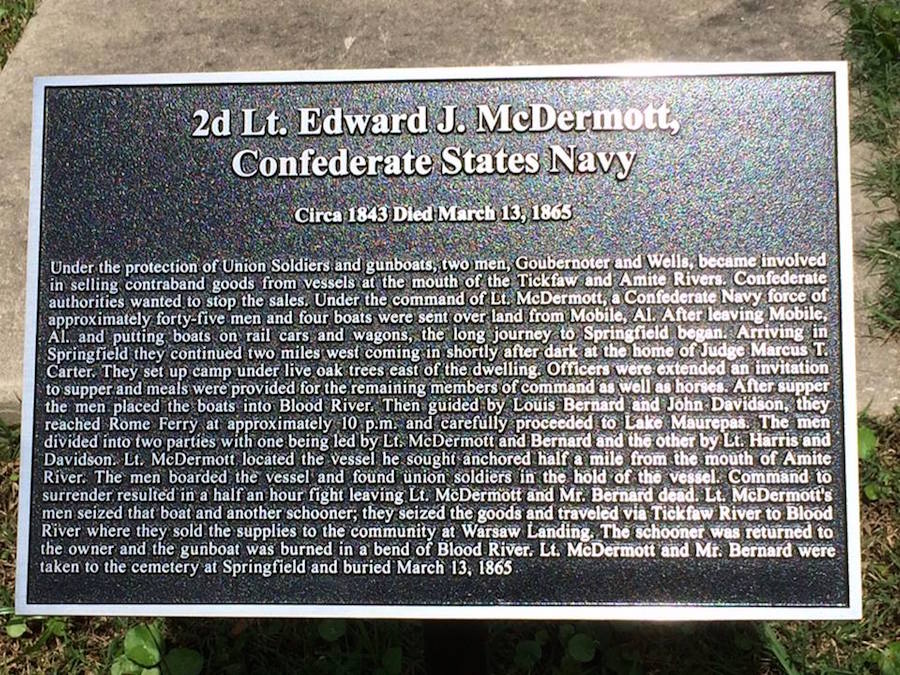 Fort mcdermott – The last battle of the war
Fort McDermott and its sister, Fort Blakely is the site of the final battle of the War Between the States. It was conducted after General Lee's surrender to General Grant. Over time, it has been neglected. Recently, Camp #11 has acquired the land and is looking forward to restoring it for posterity.
Fort History and Camp #11 Efforts to Preserve the Fort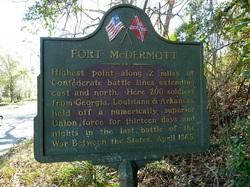 Highway Marker, photo by John Stanton 2012.
This confederate fortification was established in 1864 as a part of the Spanish Fort Complex along with Spanish Fort. The fortifications were connected by a two mile line of earthworks, redoubts, rifle pits and gun batteries.
A Union attack on the fortifications began on 27 Mar 1865 and lasted for 13 days. The Union troops numbered about 30,000 against some 2,500 Confederate troops. The fortifications were abandoned by the confederate defenders on the night of 8-9 Apr 1865. Most of the Confederate troops fled across the river and toward Fort Blakeley and when Union troops stormed the fortifications on the 9th they found empty positions and spiked guns. The War between the States effectively ended on that same day with General Robert E. Lee surrendering at Appomattox Court House around 4 pm. The battle at Spanish Fort shifted to the Battle at Fort Blakeley later that day.
In the last few years, the Admiral Semmes Camp has acquired the land upon which the main fort was built. The site was opened with a Confederate ceremony on April 11, 2015. It is now available for functions through the Camp.
More information on Fort McDermott may be found
here
.
---