ADMIRAL RAPHAEL SEMMES CAMP #11
SONS OF CONFEDERATE VETERANS
MOBILE, ALABAMA
CSS Sumter (1861-1862) – Semmes' first confederate command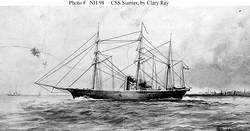 CSS Sumter (Confederate Cruiser, 1861-1862) Contemporary photograph of an artwork by Clary Ray, 1894. U.S. Naval Historical Center Photograph.
CSS Sumter, a 437-ton bark-rigged screw steam cruiser, was built at Philadelphia as the merchant steamship Habana. Purchased by the Confederate Government at New Orleans in April 1861, she was converted to a cruiser and placed under the command of Raphael Semmes. Renamed Sumter, she was commissioned in early June 1861 and broke through the Federal blockade of the Mississippi river mouths late in the month.
Early in July, the pioneering Confederate Navy commerce raider captured eight U.S. flag merchant ships in waters near Cuba, then moved to the South American coast where she took another pair. Two more merchantman fell to Sumter in September and October 1861. While coaling at Martinique in mid-November, she was blockaded by the Federal sloop of war Iroquois, but was able to escape to sea and resume her activities. Sumter captured another six ships from late November into January 1862, while cruising from the western hemisphere to European waters.
Sumter then took refuge at Gibraltar. Unable to obtain needed repairs, she was laid up in April and remained inactive, watched through the year by a succession of U.S. Navy warships, among them the sloop of war Kearsarge and gunboat Chippewa. Semmes and many of her officers were reemployed in the new cruiser Alabama. CSS Sumter was sold to private owners in December 1862. Renamed Gibraltar, she worked as a blockade runner in 1863. The ship was reportedly lost in an English Channel storm in about 1867.
---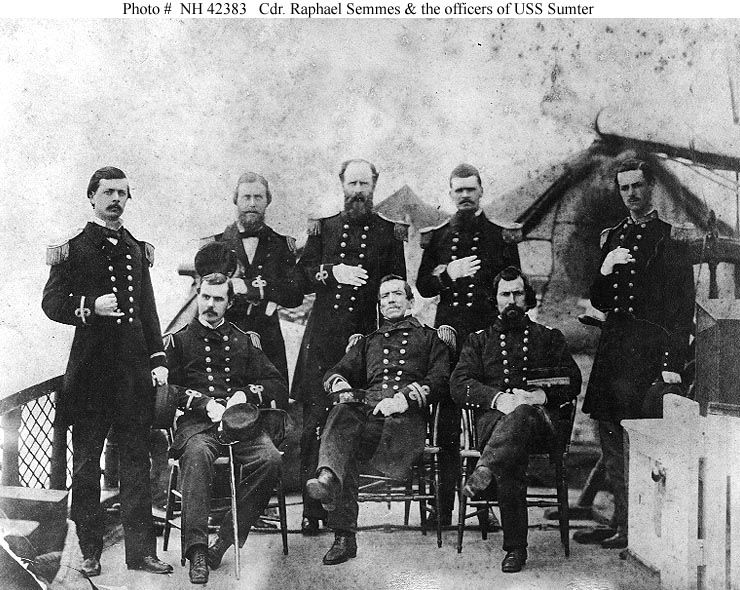 Ship's officers on deck. They are Seated, left to right: First Lieutenant William E. Evans; Commander Raphael Semmes, Commanding Officer; and First Assistant Engineer Miles J. Freeman. Standing, left to right: Surgeon Francis L. Galt; Lieutenant John M. Stribling; First Lieutenant John M. Kell, Executive Officer; Lieutenant Robert T. Chapman; and First Lieutenant Becket K. Howell (Marine Corps). U.S. Naval Historical Center Photograph.