Admiral Raphael Semmes Camp #11
Sons of Confederate Veterans
Mobile, Alabama


Books of note written by
camp#11 compatriots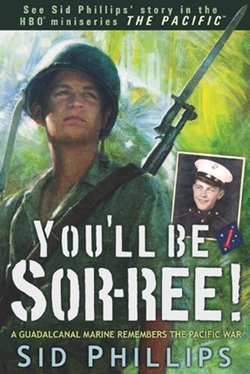 You'll Be Sor-ree!: A Guadalcanal Marine Remembers the Pacific War
By Sid Phillips
Sid Phillips knew he was a long way from his home in Mobile, Alabama, when he plunged into the jungles of Guadalcanal in August 1942... A mortarman with H-2-1 of the legendary 1st Marine Division, Sid was only seventeen years old when he entered combat with the Japanese. Some two years later, when he returned home, the island fighting on Guadalcanal and Cape Gloucester had turned Sid into an "Old Timer" by Marine standards, and more: he left as a boy, but came home a man. These are his memoirs, the humble and candid tales that Sid collected during a Pacific odyssey spanning half the globe, from the grueling boot camp at Parris Island, to the coconut groves of Guadalcanal, to the romantic respite of Australia. In this true story, Sid recalls his encounters with icons like Chesty Puller, General Vandergrift, Eleanor Roosevelt, and his boyhood friend, Eugene Sledge. Here, he remembers the rain of steel from Japanese bombers and battleships, the brutality of the tropical elements, and the haunting notion of being expendable. This is the story of how Sid stood shoulder to shoulder with his Marine brothers to discover the inner strength and deep faith necessary to survive the dark, early days, of WWII in the Pacific.
Paperback: 256 pages
Publisher: Berkley Trade; Reprint edition (April 3, 2012)
Language: English
ISBN-10: 0425246299
ISBN-13: 978-0425246290


http://www.amazon.com/Youll-Be-Sor-ree-Guadalcanal-Remembers/dp/0425246299
Editorial Reviews

"For anyone who cares about the human dimension of war-- its cost and its heroism-- Sid Phillip's book is a must read..." --Ken Burns, Emmy award-winning filmmaker
"We have an extraordinary opportunity now to recognize perhaps THE key player, if there is one, if there's ONLY one key player, he might be at the very top of the pyramid... a native of Mobile, Alabama, a man who appears over and over in our series... Dr. Sid Phillips." --Tom Hanks, Executive Producer, The Pacific

"Like his life-long friend, Eugene Sledge, Sid Phillips speaks to us in these enchanting memoirs in his natural voice, engaging and modest, full of insight and intelligence, but ever alert to the lighter side of even the most dismal human circumstances. And like any great story teller, he leaves you wishing to hear a great deal more." --Richard B. Frank, author of Guadalcanal: The Definitive Account of the Landmark Battle



Legion Surgeon - beginner's luck
by Joseph LoCicero, iii
Lucius disappoints his father by becoming physician. After his first surgical procedure, he learns he must join the legion to watch over his younger brother, Marcus. Ever since their oldest brother was killed in battle, Marcus has been eager to take his turn killing barbarians for the glory of the Republic. Aia, a tempestuous young Druid priestess fights with her mother over her warrior lover. Their ambitious chieftain wants the tribe to move to Gaul with the Helvetians. For incentive, he disrupts the Imbolc ceremony and burns down the village. As Caesar's legions chase the barbarians through Gaul, Lucius learns traditional surgery from a crusty old surgeon on his last campaign. Marcus, now an infantry trainee gets into trouble with a fellow legionnaire who is hiding in the military after a deal in the "family business" went bad. After the Roman Army's first major battle, Lucius discovers Aia searching his surgical area for supplies. He is forced to make a quick decision which will change their lives forever. Romans are considered civilized, Helvetians and Gauls barbarians, but as these ancient cultures clash, their differences are blurred and their actions surprise.
Paperback: 322 pages
Publisher: Valentis (March 12, 2013)
Language: English
ISBN-10: 0615760872
ISBN-13: 978-0615760872
Product Dimensions: 9 x 6 x 0.8 inches
Also available for Kindle
http://www.amazon.com/Legion-Surgeon-Joseph-LoCicero-III/dp/0615760872
http://www.barnesandnoble.com/w/legion-surgeon-beginners-luck-joseph-locicero-iii/1114941771



Files may require Adobe Acrobat Reader.

---