ADMIRAL RAPHAEL SEMMES CAMP #11
SONS OF CONFEDERATE VETERANS
MOBILE, ALABAMA
The early years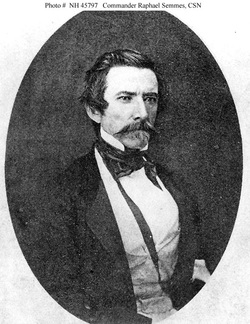 Halftone of a photograph taken in 1861, just before he entered the Confederate States Navy. U.S. Naval Historical Center Photograph.
Raphael Semmes was born in Charles County, Maryland, on 27 September 1809. Entering the Navy as a Midshipman in 1826, he subsequently studied law and was admitted to the bar while remaining in the service.
---
Before the war between the states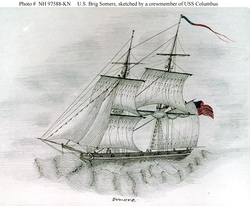 U.S. Brig Somers (1842-1846) Colored sketch by a crewman of USS Columbus. U.S. Naval Historical Center Photograph.
During the Mexican War, he commanded the brig USS Somers in the Gulf of Mexico. She was lost in a storm off Vera Cruz in December 1846, but Semmes was commended for his actions in that incident. While on extended leave after the war, he practiced law in Mobile, Alabama. Promoted to the rank of Commander in 1855, Semmes was assigned to Lighthouse duties until 1861, when Alabama's secession from the Union prompted him to resign from the U.S. Navy and adhere to the Confederacy.

---
War Service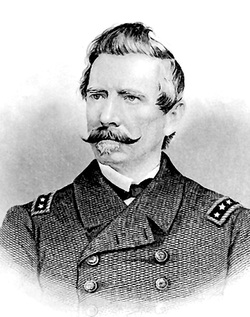 Photograph taken circa 1861-62, at the time he served as Commanding Officer of CSS Sumter. U.S. Naval Historical Center Photograph.
Appointed a Commander in the Confederate Navy in April 1861, Raphael Semmes was sent to New Orleans to convert a steamer into the cruiser CSS Sumter. He ran her through the Federal blockade in June 1861 and began a career of commerce raiding that is without equal in American naval history. During Sumter's six months' operations in the West Indies and the Atlantic, he captured eighteen merchant vessels and skillfully eluded pursuing Union warships. With his ship badly in need of overhaul, he brought her to Gibraltar in January 1862 and laid her up when the arrival of Federal cruisers made a return to sea impossible.
After taking himself and many of his officers to England, Semmes was promoted to the rank of Captain and given command of the newly-built cruiser CSS Alabama. From August 1862 until June 1864, Semmes took his ship through the Atlantic, into the Gulf of Mexico, around the Cape of Good Hope and into the East Indies, capturing some sixty merchantmen and sinking one Federal warship, USS Hatteras. At the end of her long cruise, Alabama was blockaded at Cherbourg, France, while seeking repairs. On 19 June 1864, Semmes took her to sea to fight the Union cruiser USS Kearsarge and was wounded when she was sunk in action. Rescued by the British yacht Dearhound, he went to England, recovered and made his way back to the Confederacy.
Semmes was promoted to Rear Admiral in February 1865 and commanded the James River Squadron during the last months of the Civil War. When the fall of Richmond, Virginia, forced the destruction of his ships, he was made a Brigadier General and led his sailors as an infantry force.

---
After the War

Briefly imprisoned after the conflict, he worked as a teacher and newspaper editor until returning to Mobile, where he pursued a legal career. He was elected to a judgeship, though he was disqualified under
Congressional Reconstruction's early version of the de-Baathification policy we used much later in Iraq.
He enjoyed Point Clear on Mobile Bay as often as he could, spending long summers there. He and the Catholic Bishop raced sailboats – theirs was naturally named ALABAMA and naturally they won – against the young Jesuit candidates for the priesthood, summering at Loyola Villa on Mobile Bay. He helped to start raising money to build the lovely heart pine summer church on Mobile Bay at Battles Wharf, Sacred Heart, still not air conditioned by the choice of the parishioners.
Admiral Semmes died at Point Clear on August 30, 1877, at 7:20 A.M., legend suggests after his having eaten either "a bad oyster" or bad shrimp, although he had stomach troubles and likely had stomach cancer.
Though Stonewall Jackson's last words about "across the river and into the trees" were soldier's words, Admiral Semmes' last words in the haze of death were lawyer words rather than sea captain's words: "You will see the judge about it – the case has not been decided properly– I ask for nothing but justice! Should I not have it? Promise me to attend to this matter, since I cannot do it myself!"
His body was taken from Point Clear to Mobile on a steamboat, accompanied by his friend Mobile's Father Abram Ryan, "poet-priest of the Confederacy" and author of the classic poem "The Conquered Banner."

The Admiral's Final Resting Place


career highlights
Greatest Achievements:

As Captain of the commerce raider CSS Alabama, he took a record 69 prizes
Only American to have the distinction of holding positions as a General and Admiral simultaneously
Destruction of USS Hatteras
Accomplished lawyer and professor of philosophy and literature at LSU
Member of the Alabama Hall of Fame
Service Record:

Entered the U.S. Navy as a midshipman in 1826
Commanding Officer, USS Somers in Mexican American War (1846)
Promoted to Commander (1855)
Resigns from U.S. Navy (1861)
Accepts rank of Commander in Confederate Navy (1861)
Commanding Officer CSS Sumter
Promoted to Captain (1862)
Commanding Officer, CSS Alabama
Lost battle against USS Kearsarge off the coast of France; avoided capture
Promoted Rear Admiral (1865)
Commanding Officer, James River Squadron (1865)
Appointed Brigadier General in the CSA (1865)


read more about raphael semmes
Texts written by Raphael Semmes
Raphael Semmes letterbook, 1848-1858. Raphael Semmes
Service afloat and ashore during the Mexican War: by Lieut: Raphael Semmes. Raphael Semmes. Cincinnati, W.H. Moore & Co., 1851. 480p.
The campaign of General Scott, in the valley of Mexico, by Lieut. Raphael Semmes. Raphael Semmes. Cincinnati, Moore & Anderson, 1852. 367p.
The cruise of the Alabama and the Sumter. From the private journals and other papers of Commander R. Semmes, C.S.N., and other officers. Raphael Semmes. London, Saunders, Otley & Co., 1864.
The cruise of the Alabama and the Sumter. From the private journals and other papers of Commander R. Semmes, C. S. N., and other officers. Raphael Semmes. Raphael Semmes. New York, Carleton; London, Saunders, Otley & co., 1864. 328p. Free Link: http://hdl.loc.gov/loc.gdc/scd0001.00014630132
CroisieÌ€res de l'Alabama et du Sumter; livre de bord et journal particulier du commandant R. Semmes ... et des autres officiers de son eÌ tat-major. Raphael Semmes. Paris, E. Dentu, 1864. 471p.
Memoirs of service afloat, during the war between the states. By Admiral Raphael Semmes. Raphael Semmes. Baltimore, Kelly, Piet & co.; London, R. Bentley; [etc., etc.] 1869. 833p. Free Link: http://name.umdl.umich.edu/ACK4712
Memoirs of service afloat during the War Between the States / by Raphael Semmes; with new introduction and notes by John M. Taylor ; illustrated with original engravings. Baton Rouge : Louisiana State University Press, 1996. 894p.
My adventures afloat: a personal memoir of my cruises and services in 'The Sumter' and 'Alabama'. Raphael Semmes. Richard Bentley. London 1869.*
Service afloat: or, The remarkable career of the Confederate cruisers Sumter and Alabama, during the war between the states. Raphael Semmes. Sampson, Low, Marston, Searle, Rivington. London. 1887.*
The log of the Alabama and the Sumter: from the private journals and other papers of Commander R. Semmes, C.S.N., and other officers. Raphael Semmes. Saunders, Otley, & co. London. 1965.*
Texts about Raphael Semmes
Rebel raider, being an account of Raphael Semmes's cruise in the C.S.S. Sumter; composed in large part of extracts from Semmes's Memoirs of service afloat, written in the year 1869. Selected and supplemented by Harpur Allen Gosnell. Chapel Hill, University of North Carolina Press, 1948. 218p.
The Confederate raider Alabama. Bloomington, Indiana University Press [1962]. 464 p.
The Confederate raider, Alabama; selections from Memoirs of service afloat during the War Between the States. Edited, with an introd., by Philip Van Doren Stern. Gloucester, Mass., P. Smith, 1969 [c1962]. 464 p.
Raphael Semmes, Rear Admiral, Confederate States Navy, Brigadier General, Confederate States Army : documents pertaining to the charges preferred against him by the United States Government : with a pictorial history of the voyages of the Sumter and Alabama and the Alabama Claims Commission / edited with an introd. by Caldwell Delaney. Mobile : Museum of the City of Mobile, 1978. 82p.
Cruise and captures of the Alabama. Albert Moses Goodrich. H W Wilaon. Minneapolis. 1906.*
Two years on the Alabama. Arthur Sinclair. Lee & Shepherd, Boston. 1896.*
Alabama claims: argument of the United States delivered to the tribunal of arbitration at Geneva, June 15, 1872. Dubuisson & co. Paris. 1872.*
Treaty of Washington: message from the President... relative to the differences of opinion which have arisen with regard to the powers of the Tribunal of Arbitration created under the treaty of Washington. Published by the House of Representatives.*
Unauthorized Stories about the Admiral
The cruise of the Alabama by P. D. Haywood. Houghton Miflin, 1886.*‡
* These books are available through Google Books (Google Play)
‡ This book is a hoax. See: The Raider and the Rascal - P. D. Haywood's "Cruise of the Alabama" The Confederacy's "ghost ship" inspired at least one ghost writer to produce a wholly fictitious account of her cruise.
Civil War Times
, 1973. v.12:2 p 16-22.